BCS Transportation Department

Bus Safety Tips
Getting On and Off the Bus
Students should be at their assigned stop, ready to board the bus

five (5) minutes

before the scheduled stop time.

Routes run strict times in the mornings to ensure that students arrive to school on time.
Pre-school and Kindergarten students MUST have a trusted adult receive them from the bus.
Its always good to have a trusted adult at your child's bus stop every morning and every evening.
Children should be cautioned about the danger of strangers.
Never run to catch the bus.
If you have to walk on roads where there is no sidewalk, walk against traffic and out of the road.
Stay out of the road and wait for the bus to stop before you walk to it.
Make sure you can see the bus driver's eyes when boarding or crossing in front of the bus.
If you must cross the street to get to the bus, always look left, then right, then left again.
Use the handrail when you exit the bus.
Make sure there are no dangling pieces of clothing, drawstrings on hoods, untied shoestrings, key chains or backpack straps that could get caught on the handrail or in the bus door.
If you drop something under or near the bus, don't pick it up until you tell the bus driver. Otherwise, the driver may not see you.
If you leave something on the bus, don't run after the bus to get it.


School Bus Danger Zones

Did you know there are areas to stay clear of when getting on and off the bus? Because school buses are so large, there are blind spots around the bus where it can be hard to see small children as they are preparing to board or after exiting a bus. Parents can help bus drivers keep children safe by discussing the danger zones shown in the photo on the left.

There are blind spots where the bus driver can lose sight of a child:

Front Danger Zone: It is never safe to walk close to the front of the bus. Children should walk five giant steps ahead of the bus before crossing in front of it.
Side Danger Zone: Children should always stay three giant steps away from the side of the bus.
Rear Danger Zone: Never walk behind the school bus.
Rear Danger Zone: Walk (don't run) three giant steps away from the bus when exiting the bus. When the bus approaches, step back from the curb at least three giant steps.

Information and artwork on Danger Zones from http://www.tcaps.net.
What to do when approaching a school bus with lights activated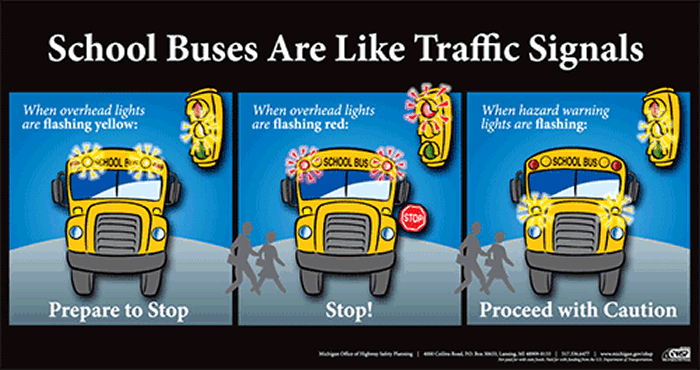 MCL 257.682   MICHIGAN VEHICLE CODE (EXCERPT) Act 300 of 1949
The school bus drivers use of yellow overhead flashing lights is indicating caution to drivers approaching the school bus, that the school bus is about to turn on the red flashing lights and come to a stop. When drivers see a school bus with the yellow overhead flashing lights activated they should begin slowing, look for children and be prepared to stop when the red flashing lights are activated.

The operator of a vehicle overtaking or meeting a school bus that has stopped and is displaying 2 alternately flashing red lights located at the same level shall bring the vehicle to a full stop not less than 20 feet from the school bus and shall not proceed until the school bus resumes motion or the visual signals are no longer actuated. The operator of a vehicle who fails to stop for a school bus as required by this subsection, who passes a school bus in violation of this subsection, or who fails to stop for a school bus in violation of an ordinance that is substantially similar to this subsection, is responsible for a civil infraction.
The operator of a vehicle on a highway that has been divided into 2 roadways by leaving an intervening space, or by a physical barrier, or clearly indicated dividing sections so constructed as to impede vehicular traffic, is not required to stop upon meeting a school bus that has stopped across the dividing space, barrier, or section.

Public Act 187 of 1990 allows what is called a "hazard light stop" under limited circumstances. Motorists approaching a school bus that is utilizing this type of stop may pass the bus while it is picking up or discharging students. Motorists should always use care when doing so. In this type of stop, children are not allowed to cross the roadway but motorists should always be prepared for the unexpected and drive accordingly.