(Last Updated On: November 16, 2021)
TAKE #2!
PICTURE RETAKE DAY TUESDAY, NOVEMBER 23RD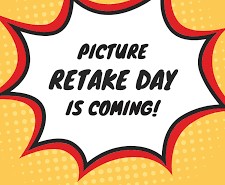 If you are wanting retakes for your child, they must bring the picture booklet that was sent home to school on the 23rd to give to the photographer. All students that were absent on Picture Day will have their pictures taken. Any questions, please call our office.