(Last Updated On: April 27, 2018)
Buchanan Community Schools Hall of Fame 2018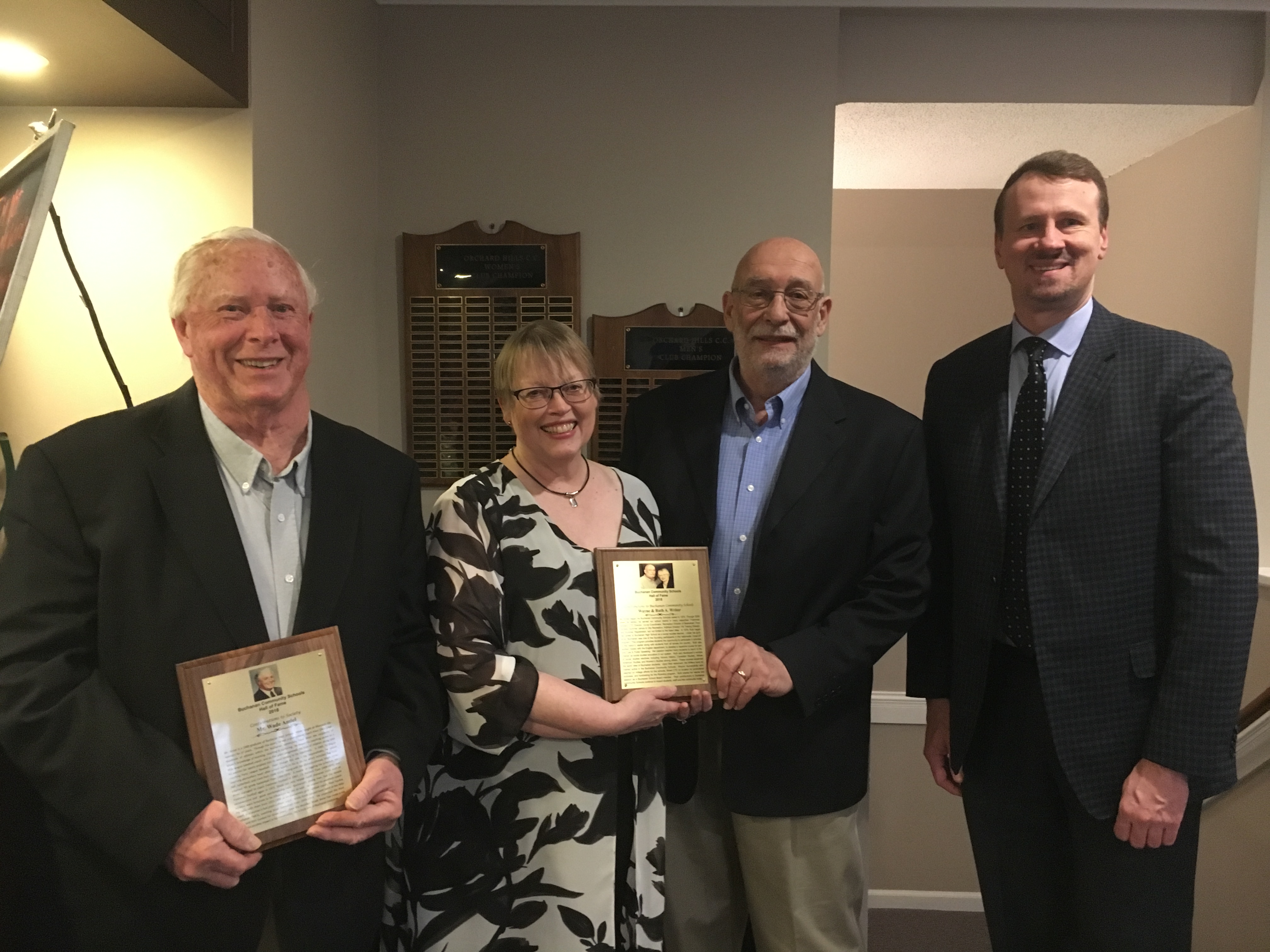 Pictured Left to Right: Wade Amiel (Inductee), Ruth and Wayne Writer (Inductee), Timothy Donahue (Superintendent)
Contributions to Society: Mr. Wade Amiel
Mr. Amiel is a 1960 graduate of Buchanan High School.  Wade taught at Moccasin Elementary for 37 years.  Through the years, he was a phenomenal coach from 1961-1989.  Hundreds of athletes within the Buchanan community have been the recipients of Wade's knowledge of teaching, coaching & nurturing.  He began his coaching career as a little league baseball coach, and as the years progressed, his love of children along with his passion for sports enabled him to keep adding to his repertoire.   In 1965, he began coaching Pony League Baseball.  Even though this was a big responsibility, he added coaching elementary boys' after school sports to his to do list which included flag football, basketball, and track from 1966-1970.  Along with the aforementioned, Wade Amiel coached 7th grade basketball from 1966-1970.  A master at juggling his schedule, Mr. Amiel managed to coach Freshman football in 1967, J.V. football from 1968-1970, and Freshman football again in 1972. Wade not only helped instill character traits such as perseverance and  good sportsmanship into  Buchanan's young men, but the female   athletes were fortunate to be influenced by him as well.  He shared his excellent coaching skills with them from 1972-1989 as an elementary girls' softball coach, floor hockey coach, and women's fast pitch softball coach.  Wade Amiel spread team spirit at the Niles Buchanan YMCA, coaching boys' basketball from 1970-1972.  He organized the Punt, Pass, and Kick contest for three years.  Over the decades, Wade Amiel has made a tremendous positive impact in his community.  He is truly one of Buchanan treasures.
Contributions to Buchanan Community Schools: Wayne & Ruth A. Writer
Mr. Writer began his Buchanan Community Schools career in 1974. Through 2008  when he retired, he served our school district in many capacities: Freshman       Advisor, CTE Director, Co-op Coordinator, Recreation Director of Basketball; Floor Hockey; Summer camps & City Recreation, KidKare Director, HS Testing Director, and Summer Registration, but not limited to the listed titles.  In 1976, Ruth began her career at Buchanan High School as a social studies teacher.  Under her guidance, Buchanan was one of the founding participants in the nationwide Close-UP program.  This program provides students the opportunity to participate in activities in the nation's capital along with students from all across the country.  Ruth also worked closely with the English department, to develop a capstone course for seniors: Law & Public Speaking.  Her passion inspired many students to return to Buchanan as social studies educators in our system.  Ruth also developed a number of social studies electives including Honors History, Canadian Studies, African American Studies, and Women's Studies among others.  These courses expanded the world view of Buchanan students.  Upon their retirement, the Writers have remained active in the Buchanan Community Schools.  Wayne: Successfully campaigned on millage efforts for the schools, filmed CTE on location for promotional purposes, and fundraising for the Robotics program.  Ruth shares her talents and passion as a Buchanan School Board member.  Their contributions to Buchanan Community Schools continue to impact students, staff and this community today.